Immerse yourself in an exciting coastal journey through the most outstanding beach clubs in Mexico. Our complete article will take you on a tour of the beach jewels of Mazatlán, Cancún, Vallarta, Acapulco, Los Cabos and La Paz. In every corner, you will find a unique experience that will transform your vacation into unforgettable moments.
From the allure of Mazatlán to the elegance of Cancún, and from the natural beauty of Vallarta to the vibrant energy of Acapulco, each destination offers a unique perspective on beach life. Los Cabos and La Paz will offer you a captivating mix of adventure and tranquility.
Our commitment is to immerse you in the heart of each coastal destination, taking you to discover the most outstanding beach club in each city. Through vivid accounts and helpful tips, we'll provide you with everything you need to plan your visit and make the most of every moment in the sun.
Are you looking for a relaxed escape or exciting water activities? Do you want to enjoy the local gastronomy or relax in a sun lounger by the sea? Whatever your preference, we will guide you to the perfect experience at each beach club.
Get ready for an exciting beach adventure with our article. Discover, explore and plan your next trip through the best beach clubs in Mexico. From the moment you step on the sand until you feel the sea breeze on your skin, we guarantee that every moment will be unforgettable.
IMMERSE YOURSELF INTO THE PERFECT EXPERIENCE AT PUNTO VALENTINOS, THE ICON OF MAZATLÁN.
In the exciting city of Mazatlán, Sinaloa, Mexico, there is a unique destination that combines the freshness of the ocean with a vibrant and relaxed atmosphere. We present you the incomparable Beach Club in Mazatlán, located in Punto Valentinos, the iconic castle that hugs the shores of this marvelous city.
A CHARMING CORNER IN FRONT OF THE SEA.
If you are looking for the perfect place to spend unforgettable moments with your friends and loved ones, the Beach Club in Mazatlán is the ideal choice. From the moment you set foot in this coastal oasis, you will be greeted by an enveloping atmosphere that invites you to relax and enjoy life to the fullest.
A UNIQUE ENVIRONMENT IN PUNTO VALENTINOS.
A unique atmosphere in Valentinos Point: What makes this beach club truly special is its location in Valentines point. This charming castle, emblematic of Mazatlán, becomes the perfect backdrop for your days of aquatic fun and relaxation. In addition, Punto Valentinos is home to a selection of restaurants and bars that add a touch of variety to your experience.
ADD AND CONTINUE IN PARADISE.
The flexible schedule of the Beach Club gives you the freedom to choose the perfect moment to immerse yourself in the fun. From 1:00 pm to 9:00 pm, you can enjoy the facilities that include both a refreshing pool and the extensive Mazatlán beach. Here, every moment is an opportunity to create lasting memories under the warm sun and sea breeze.
YOUR PORTAL TO AQUATIC FUN.
Visiting the Beach Club in Mazatlán is an experience you don't want to miss. Do you want to know the best? You can access more details and even make reservations through their official website. The door to water fun and relaxation awaits you just a click away!
On your next getaway to Mazatlán, allow the Beach Club at Punto Valentinos to provide you with moments of pleasure and joy. Immerse yourself in its uniqueness, enjoy the panoramic view and live the true essence of paradise by the ocean.
MARAIKA CASITAS IN PUERTO VALLARTA.
LIVE THE CHARM OF THE BEACH CLUB IN PUERTO VALLARTA.
Looking for an extraordinary day on the coast of Puerto Vallarta? Welcome to the Beach Club at Casita Maraika! Here, the possibilities are endless, and each corner awaits you with a special experience that you will never forget.
In this coastal oasis, the choice is yours. Choose between a terrace with sand and sun loungers, the cozy Medusa bar with its fresh and fun-filled cocktails, or immerse yourself in the tranquility of the reading room with a table perfect for games. And if it's a touch of romance you desire, the fire pit deck with grill offers the chance to enjoy a magical evening as you watch the sun dip below the horizon.
Getting to Casita Maraika is part of the adventure. You can opt for an exciting boat or yacht ride, or if you prefer, a walk through the jungle that lasts more than 2 hours. The road may be long, but the reward is unmatched.
FUN AND RELAXATION galore
Here, fun and relaxation converge to create an exceptional experience. From guided walks through the jungle to exciting water activities, Casita Maraika offers a full range of activities and services that will enrich your stay at the beach club. Do you need to recharge your energies? Enjoy a therapeutic massage or private yoga classes. For those in search of an authentic local experience, there is also a wide variety of local attractions to explore.
Your adventure at Casita Maraika begins by reserving your favorite activities through our concierge service. We will make sure that every moment you spend here is memorable and enriching. Your time at the beach club will not only be unique, but also fun and revitalizing.
EXPLORE AQUATIC PARADISE AT KIN HÁ, THE BEACH CLUB IN CANCUN.
Discover the Unique Experience that Combines Luxury, Water Activities and Gastronomy in Isla Mujeres
Welcome to the Kin Há Oasis on Isla Mujeres.
Discover kin ha, the hidden treasure of Isla Mujeres, Mexico, where luxury, water activities and delicious cuisine come together to give you an unforgettable experience in a dream place.
A Paradise of Aquatic Fun.
Located in the beautiful Women Island, kin ha stands as an oceanfront resort offering a range of exciting and relaxing water activities. Dive into our three pools, each with its own charm: a children's pool with a slide, an infinity pool that blends into the horizon, and an adult-only pool with a refreshing bar.
Gourmet Experience with Sea Views.
Our restaurant facing the sea in Women Island It is a true delight for the most demanding palates. Featuring a fusion of American and Mexican gourmet cuisine, enjoy a culinary experience that highlights the unique flavors of both cultures. Whether you choose our ocean view terrace or one of our many terraces, each meal becomes a feast for the senses.
Adventures in the Caribbean Sea.
Immerse yourself in the crystal clear waters of the Caribbean. Kin Há offers you kayaks, paddleboards and snorkeling equipment to explore the sea and its amazing marine life. The underwater beauty of the region becomes the perfect setting for adventures and unforgettable moments.
Relaxation and Entertainment.
In search of relaxation? Our two lower terraces and the pier give you the opportunity to enjoy the sun, sip refreshing drinks and revel in the sea breeze. You can even relax in our beachfront hammocks and lounge chairs!
They are available to you from 8 in the morning to 10 at night, every day of the week. The atmosphere is suitable for all ages, from children to adults, ensuring that everyone can experience the magic of Kin Ha.
Live the Kin Há Experience in Isla Mujeres.
If you are ready to live a day full of fun, relaxation and unforgettable experiences, kin ha it is the perfect destination. From live music to sweeping ocean views, every moment here is a postcard bliss. Come and discover why Kin Há has become a paradisiacal corner that nobody wants to miss.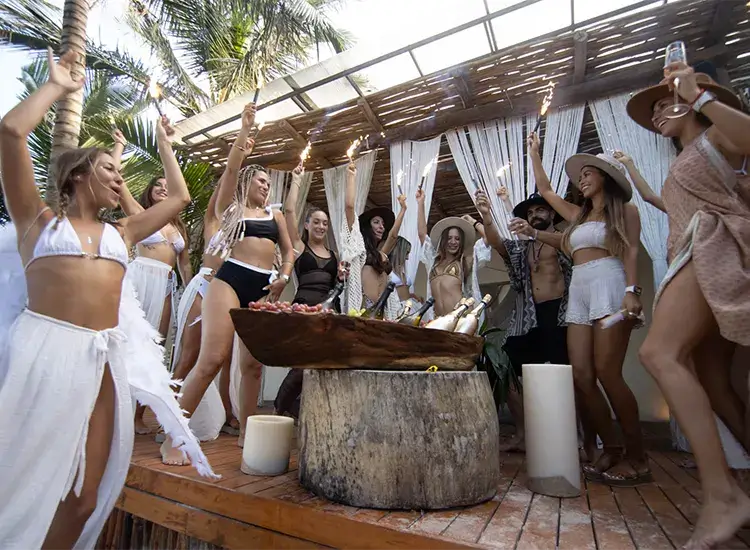 Taboo Los Cabos: The Exclusive Beach Club for your Perfect Beach Days
An Experience of Gastronomy, Party and Relaxation in the Heart of Los Cabos, Baja California Sur
Immerse yourself in the Luxury of Taboo Los Cabos
Discover Taboo Los Cabos, the epitome of luxury and fun in an exclusive Beach Club located in the prestigious five-star hotel ME Cape. This paradise facing the Sea of Cortez invites you to experience the perfection of Mediterranean cuisine, the effervescence of champagne bottles and the vibrant atmosphere of the party.
A Gastronomic Pleasure by the Sea
With a high-level gastronomic proposal, Taboo Beach Club offers a chic, bohemian atmosphere full of possibilities that stimulate your senses. Taste international flavors with exclusive ingredients, such as colossal squid and tiger shrimp, in a unique space that redefines the beach club experience.
Elegance, Party and Exclusivity
Taboo Beach Club stands as one of the main attractions in Los Cabos, with its location on the iconic El Médano beach. Enjoy extravagant parties in a sophisticated, bohemian setting, where a multi-sensory experience combines with live performances and a resident DJ to bring every moment to life.
Adventures in the Caribbean Sea.
Immerse yourself in the crystal clear waters of the Caribbean. Kin Há offers you kayaks, paddleboards and snorkeling equipment to explore the sea and its amazing marine life. The underwater beauty of the region becomes the perfect setting for adventures and unforgettable moments.
Celebrate Special Moments at Taboo
Are you looking for a place for your special events? Taboo Beach Club it becomes the ideal setting for bachelorette parties, weddings and much more, with the majestic Sea of Cortez as a backdrop. Celebrate your birthday in an unforgettable way on one of the best beaches in Los Cabos, surrounded by the festive atmosphere and the music of the resident DJ.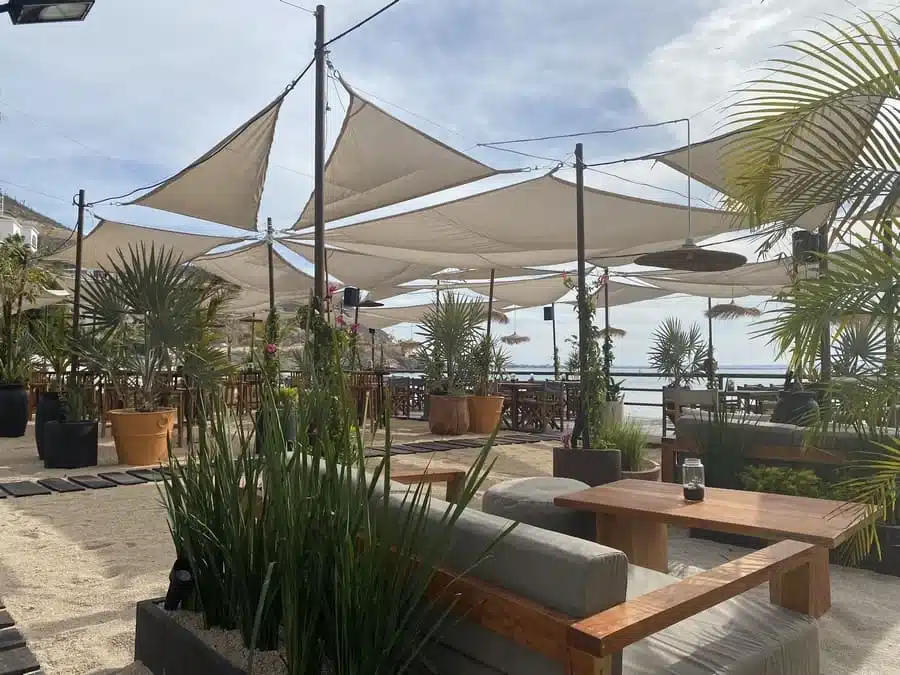 Discover the Tranquility and Elegance of Las Palmas at La Concha Beach Hotel & Club
Exquisite Gastronomy, Private Beach and Water Adventures in the Heart of La Paz, Baja California Sur
Enjoy the experience of the palms.
Enter Las Palmas, the charming restaurant located in the exclusive La Concha Beach Hotel & Club in La Paz, Baja California Sur. Experience a culinary fusion of breakfast, lunch and dinner designed to please every palate. Our chef creates dishes with the freshest ingredients, while you enjoy the calm and relaxed atmosphere that Las Palmas Restaurant offers.
Sophisticated Culinary at Jardín Escondido Restaurant
The opening hours of the Jardín Escondido Restaurant are from 8:00 a.m. to 10:30 p.m., offering the opportunity to delight yourself with à la carte breakfasts from 8:00 a.m. to 12:00 p.m., and savor snacks, lunches, and dinners from 12 :00 p.m. to 10:00 p.m. Immerse yourself in the culinary experience and enjoy the wide variety of options that this gastronomic corner offers.
An Oasis of Fun and Relaxation in La Paz.
La Concha Beach Hotel & Club not only invites you to enjoy the exquisite cuisine, but also to explore its water activities. Experience exciting snorkeling, diving and canoeing excursions at the beach club. Relax on La Concha's private beach or in the refreshing outdoor pool. For a touch of additional relaxation, the massage service is at your disposal.
Comfort and Luxury in Every Corner.
The hotel's elegant rooms feature air conditioning, cable TV and sea views. Each private bathroom is stocked with free toiletries, ensuring your comfort during your stay.
The hotel features a restaurant that offers a fusion of Mexican and international cuisine. In addition, the pool bar is open from 09:00 am to 10:30 pm, creating the perfect environment to enjoy cocktails and refreshing drinks. If you are looking to maintain an active lifestyle, the gym and meeting rooms are at your disposal.
Explore La Paz and its Surroundings
The strategic location of the La Concha Beach Hotel & Club allows you to enjoy both the hotel and the charms of La Paz. Only 25 minutes by car is the international airport of La Paz, while the vibrant nightlife and culinary options of the city center are just minutes away.
The Beach Club Acapulco: Your Oasis of Fun and Relaxation Facing the Sea
Are you looking for the perfect place to enjoy an unforgettable day in the company of your friends? Look no further, because The Beach Club in Acapulco is the destination you have been waiting for. Immerse yourself in a unique experience where music, fun and relaxation come together in a paradisiacal environment.
Live the Unique Experience of The Beach Club:
Enjoy a day full of emotions in our pool and immerse yourself in the refreshing waters while the music surrounds you. Our beach club It is the place where laughter and good times are guaranteed. Savor a wide variety of drinks, snacks and delicious dishes that will delight you with every bite.
Featured Dishes for Your Demanding Palate:
Let yourself be conquered by the flavors of the sea with our octopus in love. This exquisite dish offers you the freshness of octopus accompanied by a chipotle chile mayonnaise, fresh cilantro, onions, cabbage, tomato and peas, all served on a bed of fried tortillas. An explosion of flavors that will transport you directly to the ocean.
Location and Hours for Your Comfort:
The beach club is located in the exclusive Sea Garden, in front of the crystalline waters of Acapulco. Our Beach Club opens its doors for you from Monday to Sunday, from 10 AM to 7 PM. Are you ready to live a unique experience of fun and relaxation in the heart of Acapulco?
Special Events with the Best Entertainment:
In The Beach Club, the fun never stops. Don't miss our special events with live guest DJs that will set the perfect rhythm and energy for your day at the beach. In addition, our Beach Club is specially designed for people over 18 years of age, providing a unique environment for your enjoyment.
Get ready for an Unforgettable Day:
In The Beach Club Acapulco, we guarantee an unforgettable experience full of joy and relaxation. It doesn't matter if you are looking for a moment of disconnection or a dose of fun, our beach club has everything you need. We are waiting for you to live unforgettable moments next to the crystal clear waters of Acapulco!
Thanks for Joining Us on This Tour of the Best Beach Clubs!
It has been a pleasure to take you through this adventure in which we have explored some of the most spectacular beach clubs in different destinations in Mexico. From the crystal clear waters of Cancun to the tranquility of La Paz, each beach club has its own charm and unique experiences to offer.
We hope you have found inspiration for your future travels and beach adventures. It is always an honor to be part of your getaway and relaxation plans. If you want more information about our yacht rental services, do not hesitate to contact us. We are here to help you create memorable moments and unforgettable vacations.
Don't forget to keep exploring, discovering and enjoying the wonders that Mexico has to offer. Until next time on our paradisiacal beaches!
With gratitude, The Team Yatezzitos Mexico.